RMTAAC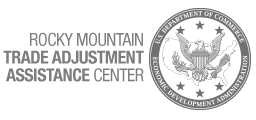 We're excited to announce the launch of the new Rocky Mountain Trade Adjustment Assistance Center (RMTAAC) website. RMTAAC is a federal grant program funded through the Economic Development Administration (EDA), U.S. Department of Commerce. The program provides grant funding and consulting to help trade-impacted firms strengthen their competitive positions and prosper in the global marketplace.
RMTAAC partnered with the o2 Group to update their website and marketing materials. Visual elements such as impactful images representing industries served, stats, case studies, and icons help users quickly and efficiently find the resources they need. The site is built in WordPress, so RMTAAC can quickly and easily maintain the site themselves.
In addition to the website redesign, o2 Group updated the agency's brochure and letterhead, bringing brand consistence across all their marketing collateral.
Website Design, WordPress Development
Print Design